Regular price
€5.794,79 EUR
Regular price
Sale price
€5.794,79 EUR
Unit price
per
Sale
Notify me
🟢 In stock, ready to ship
Detailed description

Quiet treadmill with freestanding and infinitely adjustable height desk. Its design perfectly matches the treadmill. The size of the tabletop can be individually selected. The treadmill desk is extremely stable and comes with standing support.

The treadmill

- The first silent treadmill in the world (less than 35 dB)
- Maintenance free with lifetime warranty
- Multiple award winning design
- Works without electricity
- High quality and sustainable materials
- Loadable up to 160 kg
- Usable with shoes or while barefoot
- Internationally patented

The advantages

- For concentrated, creative, and efficient work.
- Understood intuitively in minutes by any age group.
- Suitable for home offices, businesses, libraries, coworking spaces, etc.
- The speed of walking is determined step by step by the user.
- The treadmill adapts without time delay.

Freestanding desk

- Electrically height adjustable.
- Depth: 80 cm, width 120 cm, 155 cm or desired width (110 cm - 200 cm).
- Please specify the desired width in the comments field during checkout.
- Infinitely adjustable depth: the tabletop can be pulled up or pushed away. Lockable if required. Loadable and stable in any position.
- The A-shaped wooden base ensures rock-solid stability. It is made of the same certified beechwood as the side parts of the treadmill.
- Legs made of sturdy and scratch-resistant steel elements powder coated in RAL 9005 jet black matt. Crossbars made of galvanized steel.
- Two silent motors for continuous height adjustment between 100 cm and 150 cm.

The tabletop

- The surface is made of real leather fiber (no artificial leather). No animal must be killed intentionally or additionally.
- Pleasant fine leather smell.
- Haptic warm surface for a pleasant feeling while working.
- Well suited as a base for mouse or for writing on.
- Resistant to scratches, fingerprints, household chemicals, and disinfectants.
- Certified according to Ökotex leather standards without harmful ingredients

Mobility


- Four wheels make the treadmill mobile.
- Easy to reposition.
- The wheels are lockable.
- Suitable for stone and parquet floors.
- Foot set consisting of 4 feet included.
- The treadmill fits through most doors and in most elevators.

Production of the treadmill

- Handmade in Walkolution's own high-tech factory in southern Germany.
- Only sustainable materials are used.
- Side panels are milled from solid sustainable beechwood blocks.
- Running surface made of springy birchwood slats.
- Coating is scratch-resistant, wipeable, and soft.
- Slats slide on industrial grade ball bearings.
- Extremely strong steel frame inside for safe operation and ultimate durability.

Certifications

Certified to the specifications for fitness equipment open to the public (Class S (Studio) in accordance with the European Union's product safety specifications for treadmills and DIN EN ISO 20957.
Free shipping

Walkolution offers you free shipping.
Measures And Weight

Dimensions

Treadmill
Length 140 cm
width 64 cm
height 27 cm

Desk
Depth 80 cm
width 120 cm or 155 cm, or individual width
Height 100 - 150 cm
Depth adjustability (back and forth): 20 cm


Weight
Total weight: 141,7 kg
Weight of individual components:

Treadmill: 85 kg
table: 51 kg
Standing aid: 5.7 kg
Lifetime Warranty

All Walkolution products come with a lifetime warranty.
Downloads (3D Files, Spec-Sheet, Assembly Manual)
View full details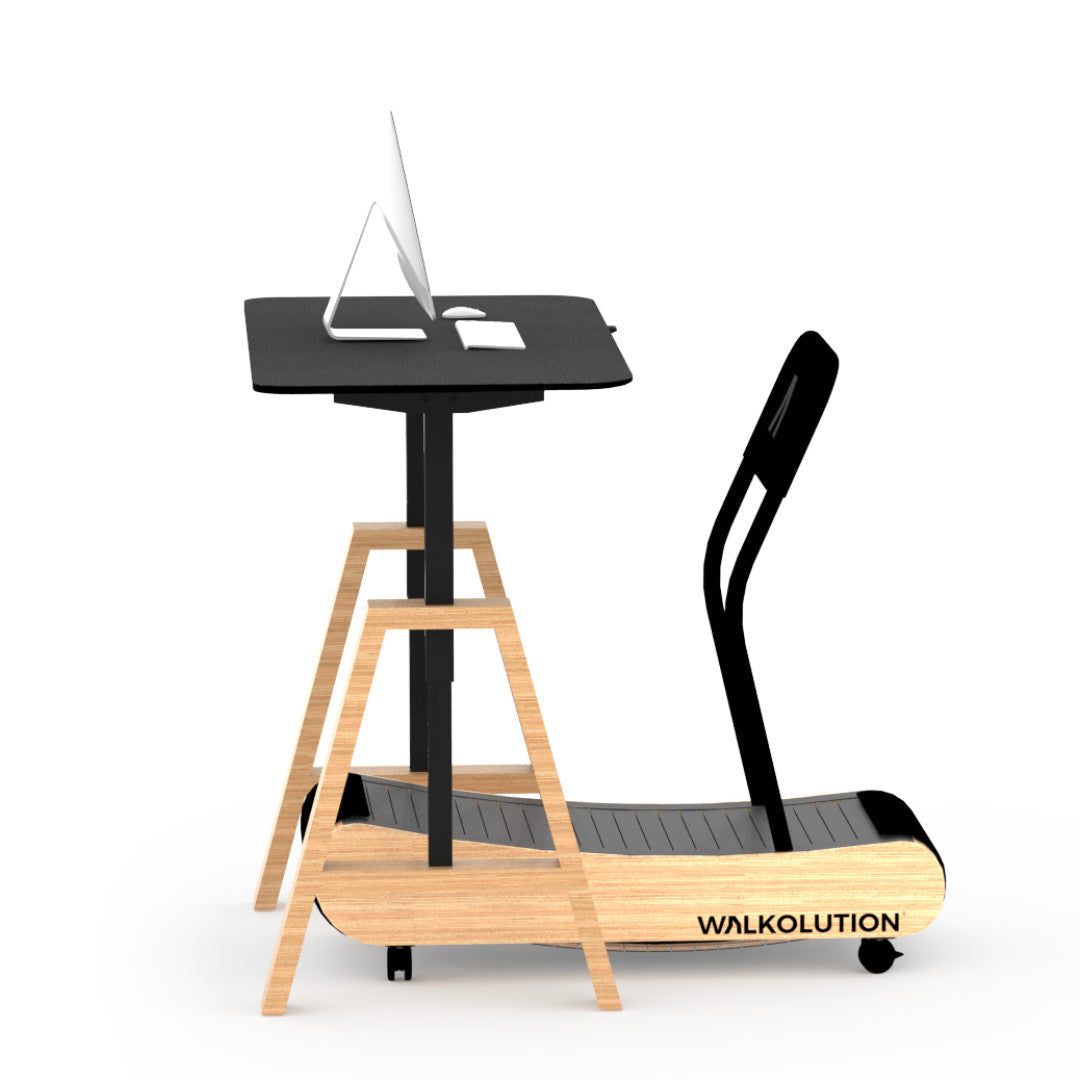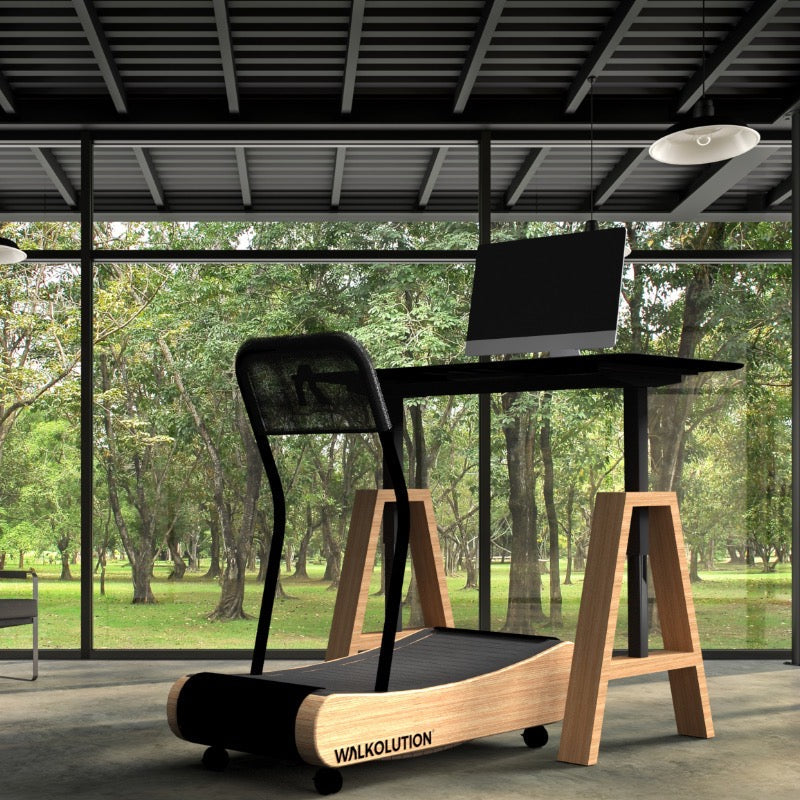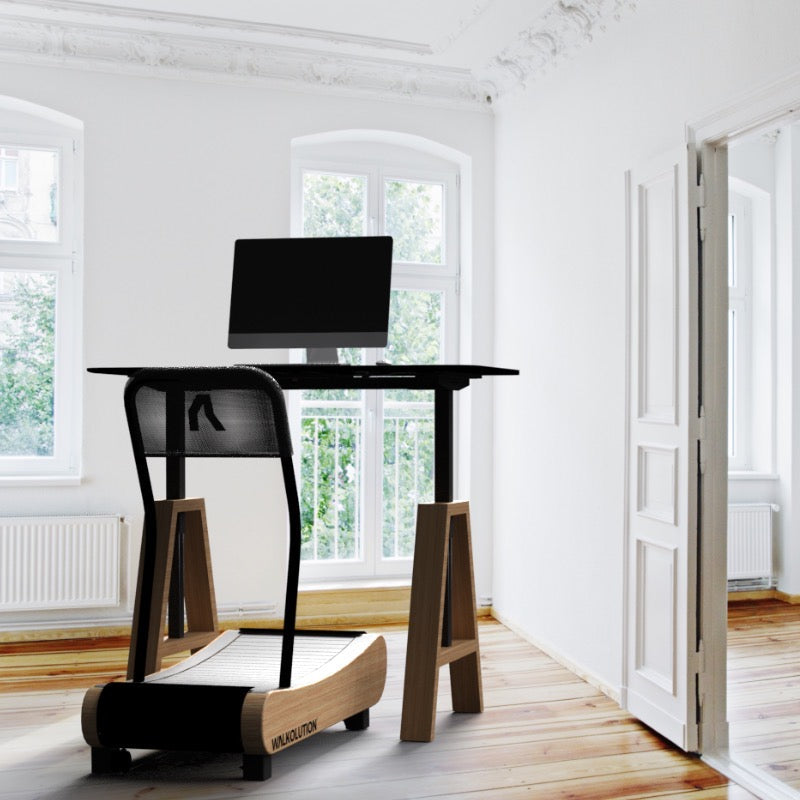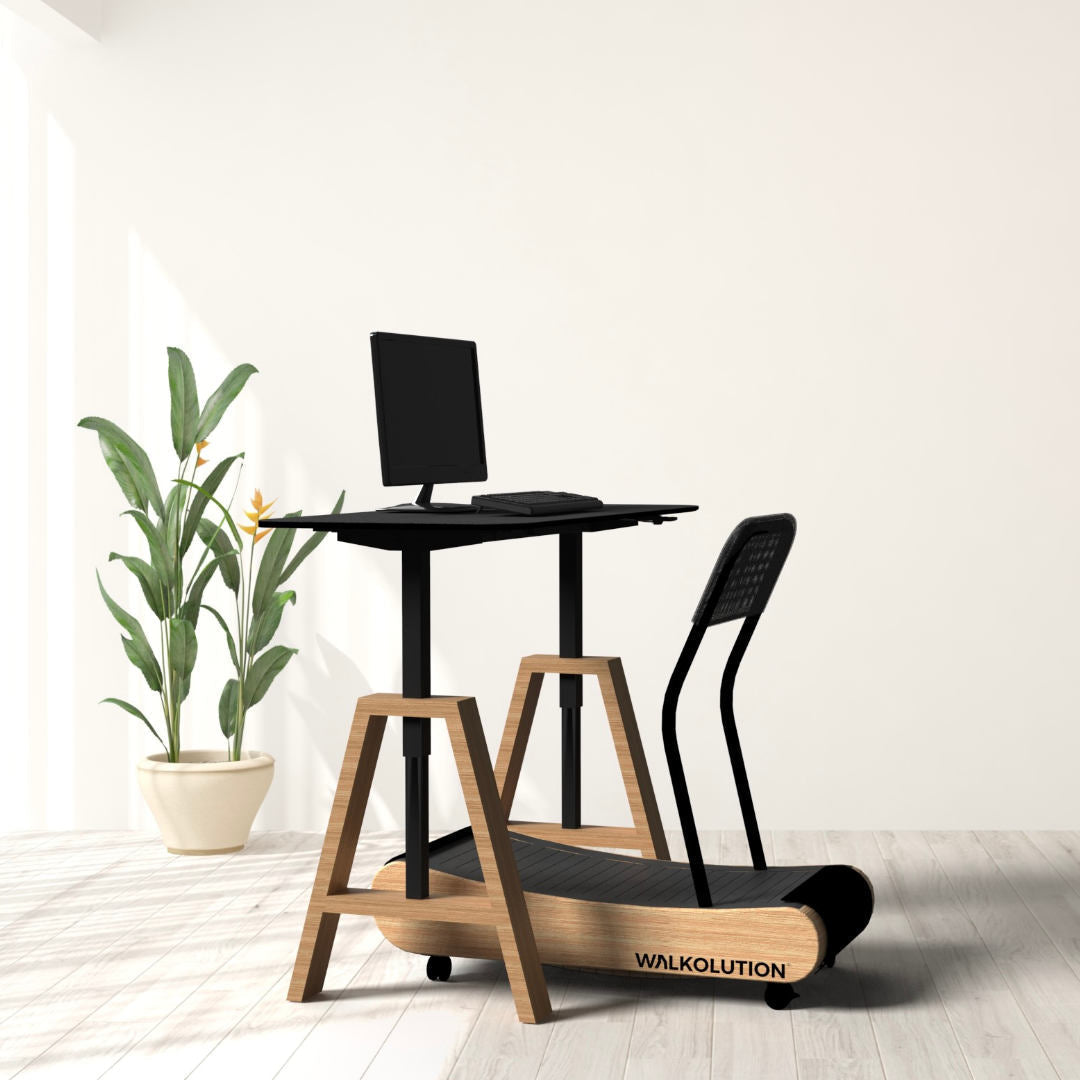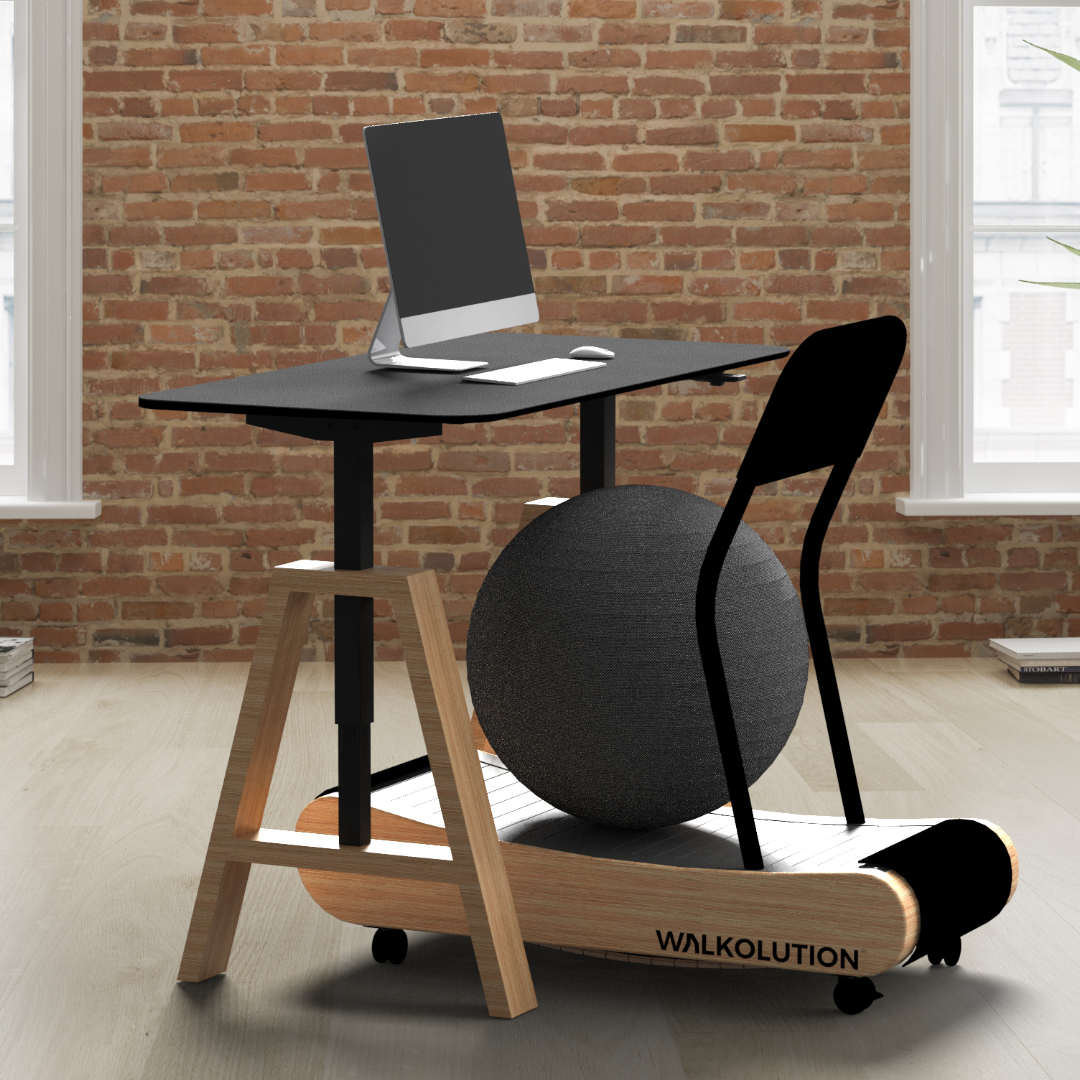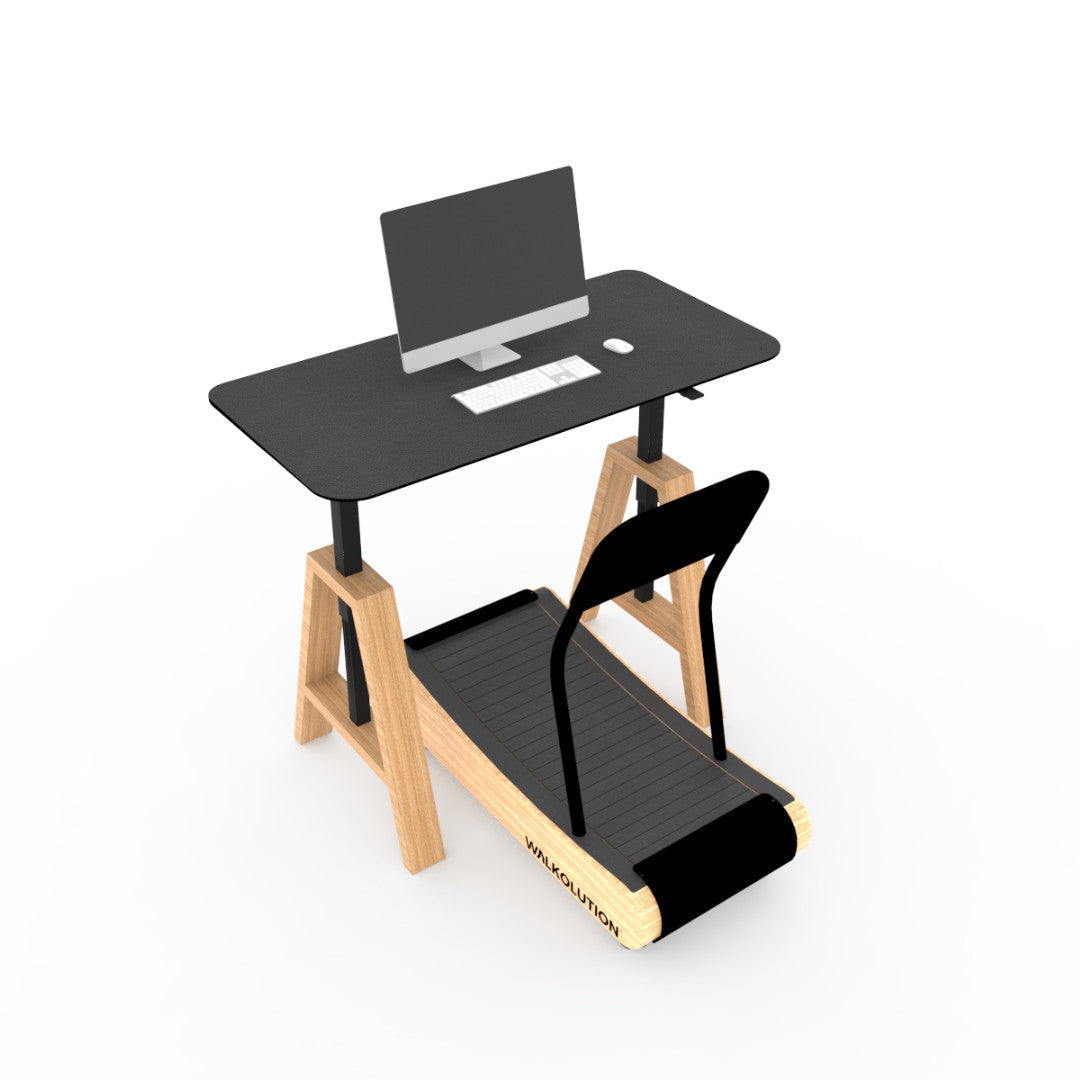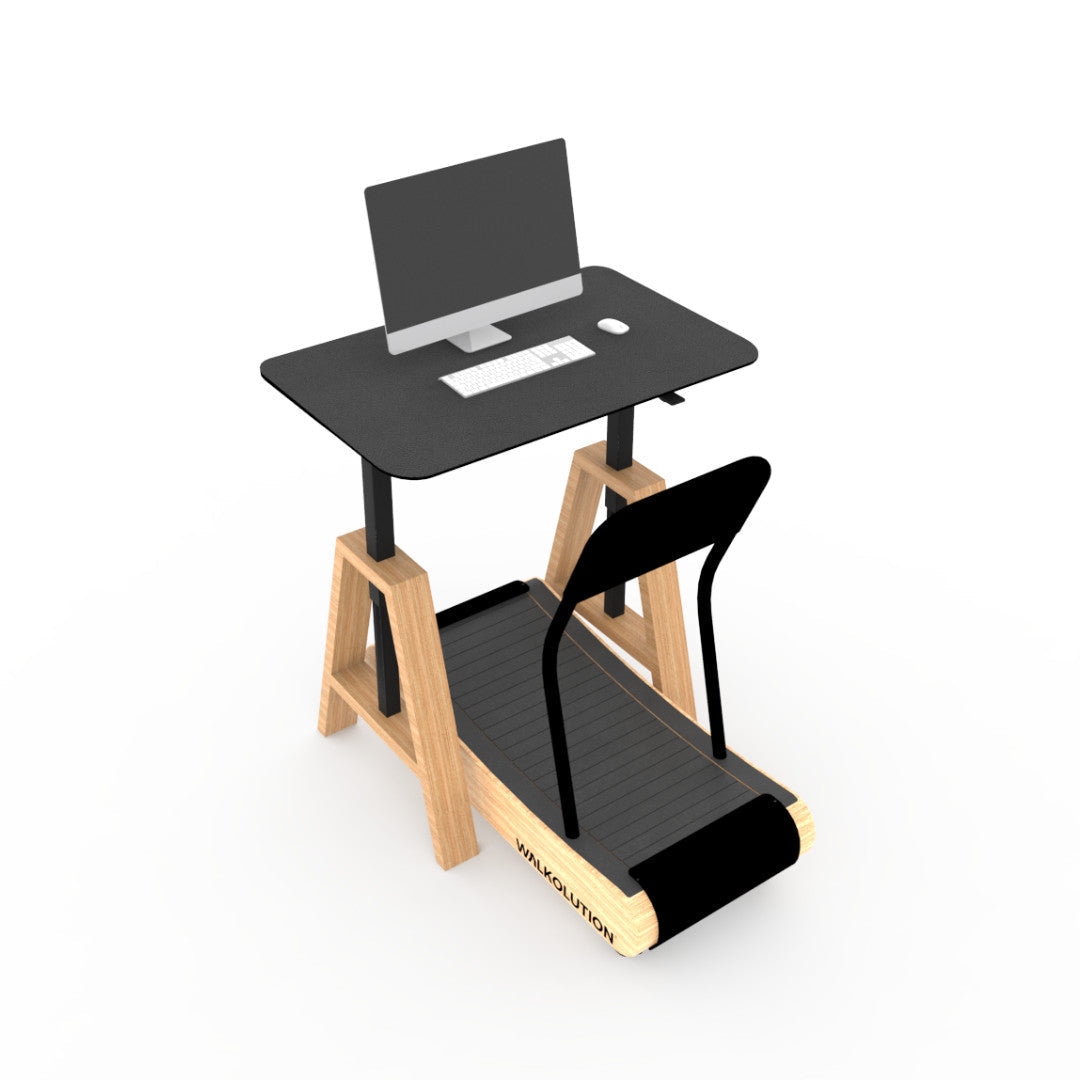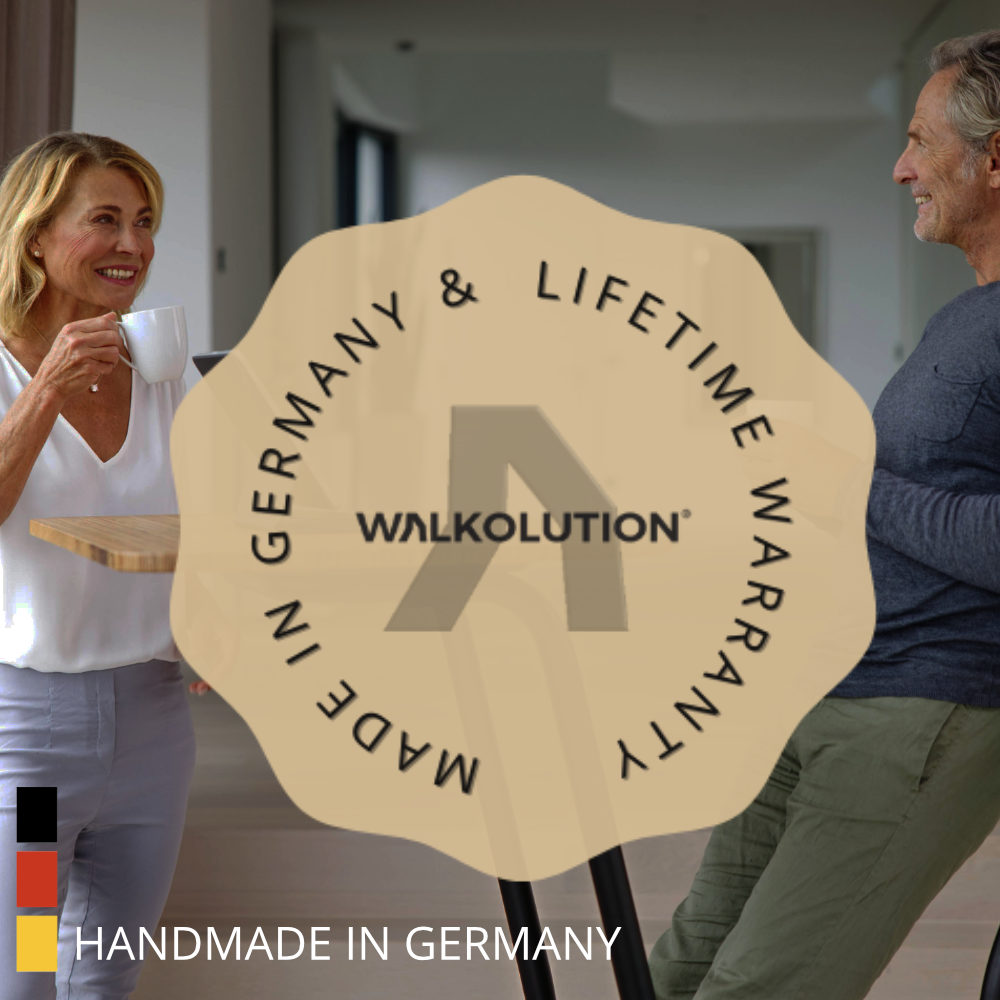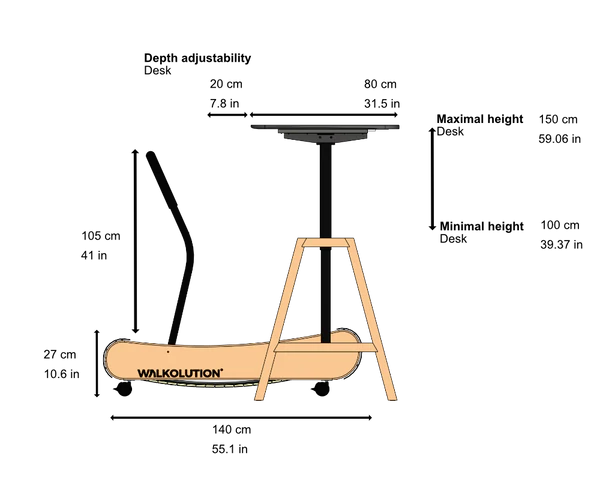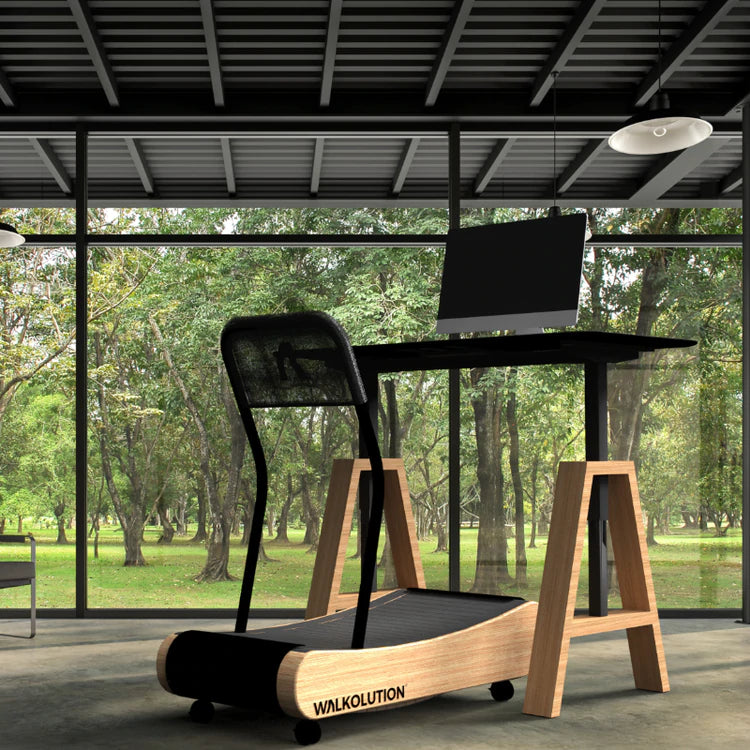 The Active Workplace For Peak Performance
We developed the ÄRA Series with the goal of offering a workstation that will inspire you every day and revolutionize your work experience from the ground up.

The combination of the silent manual treadmill with the ultra-stable ÄRA desk perfectly complements each other and provides the right environment for demanding work.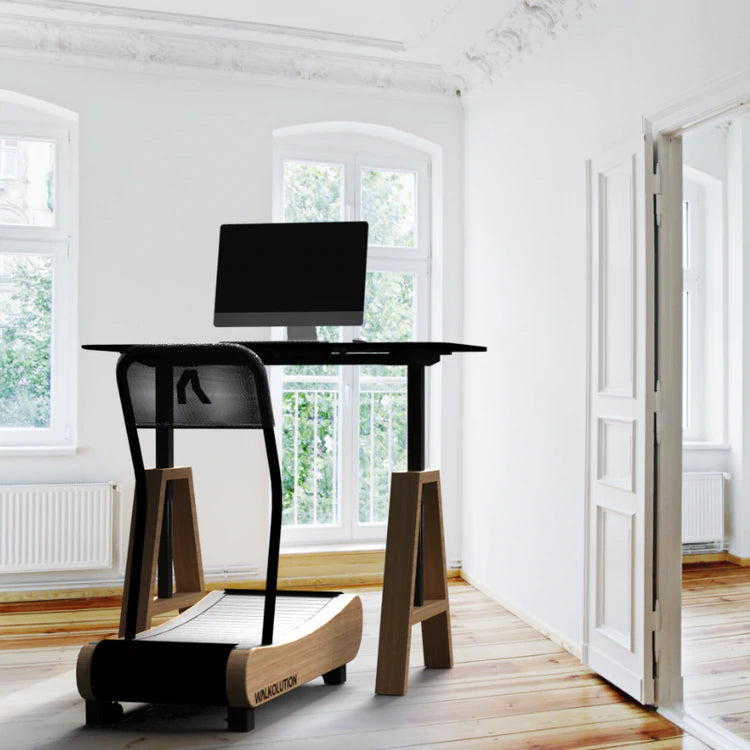 The Masterpiece: An extremely silent and manual treadmill without electricity
The Walkolution treadmill works purely mechanically by means of slats that glide slowly on high-quality ball bearings. The advantages: The treadmill is whisper-quiet and whether you stroll, walk or stop - you decide, intuitively and naturally, from step to step.

These are significant differences to conventional electrically powered treadmills. In addition, the treadmill consumes no electricity and you do not have to worry about electromagnetic radiation.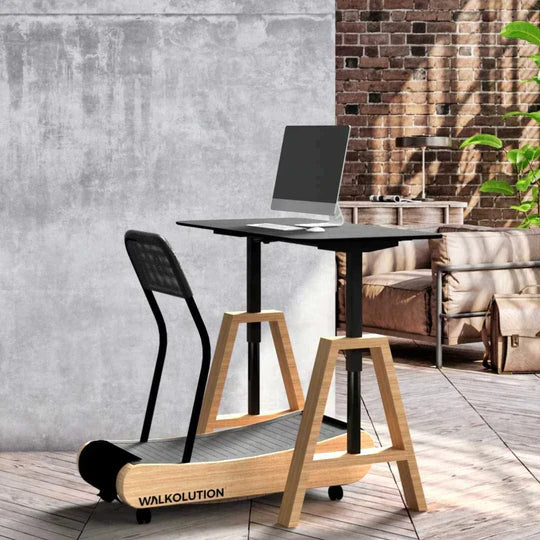 The most stable desk on the market with many smart features
The Ära desk not only has the highest range of adjustment with 150 cm maximum height, but is also adjustable in depth and always remains 100% stable in any position.

The tactile leather surface feels incredibly good and is perfectly color-coordinated with the soothing surface of the treadmill.


An optional cable management system keeps the design tidy.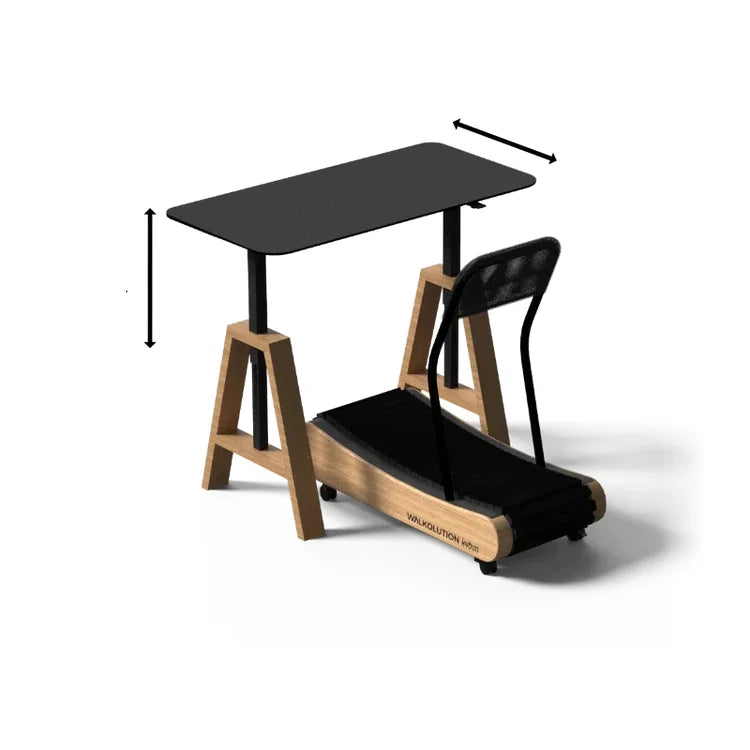 Height And Depth Adjustability
The standing aid integrated at the back of the treadmill allows people to rest between tasks without having to sit down often. Thanks to the infinitely variable depth adjustment of the tabletop, you can pull the tabletop towards you when leaning back and simply push it forward again when you want to continue walking.

However, the depth adjustment is also very helpful during use when walking, as it allows you to always find the exact right distance.
Leading Companies Trust Walkolution Solutions
Well-known companies around the world use our treadmills because they care about the health and productivity of their employees and because our high quality meets the demands of these customers.

Learn more about our enterprise solutions
Manual vs. electric treadmill desks

Do you want to buy a treadmill desk but don't know which type to choose? In this video, we compare the two types of available treadmill desks: The manual Walkolution and conventional electric treadmill desks.
Which Walkolution treadmill suits you?

The manual Walkolution treadmill is available in different versions. Find the variant that suits you best. Choose between different table options and decide whether you would like to have a walking surface made of wood or an extra joint gentle surface made of Kybun foam.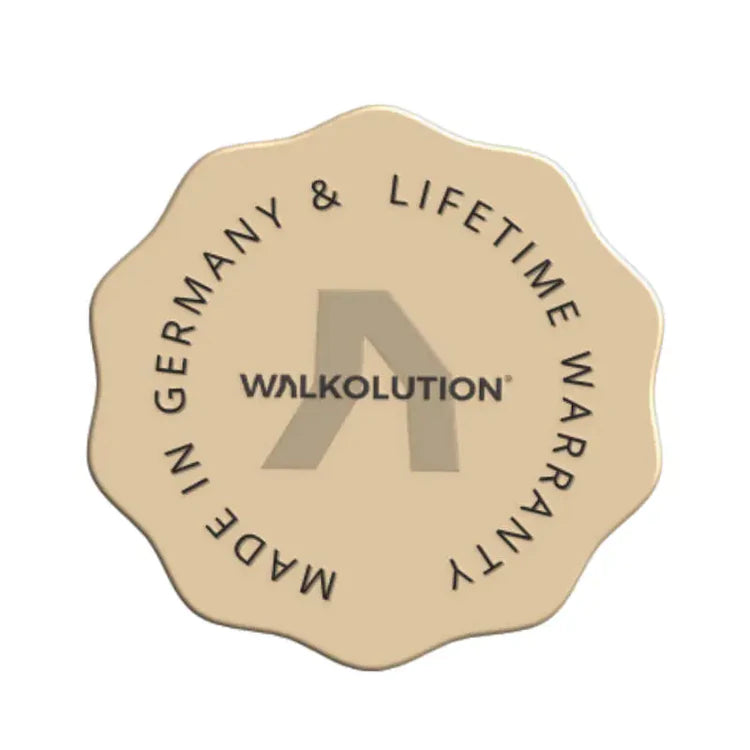 Worry-free Lifetime Guarantee
It couldn't be more robust. The Walkolution treadmill is maintenance-free and designed for continuous daily use. We want them to last a lifetime, so we give them a lifetime guarantee.
Discover the world of Walkolution
Regular price
From €9.556,97 EUR
Regular price
Sale price
From €9.556,97 EUR
Unit price
per