Regular price
€8.872,94 EUR
Regular price
Sale price
€8.872,94 EUR
Unit price
per
Sale
Notify me
🟢 In stock, ready to ship
On the Walkolution MT900 Kybun you walk like on soft moss, because it is the only treadmill on the world market exclusively equipped with the soft-elastic surface of Kybun® Switzerland. The manual treadmill is compact, incomparably quiet and gives you a little foot massage with every step. Of course, you can also use the treadmill with shoes.


Protected by international patents.
Handmade by Walkolution in Germany, protected by our Signature Lifetime-Warranty.
Includes a signed copy of Death by Sitting. Why We Need A Movement Revolution.
Detailed description

Manual and silent treadmill with the world's unique Kybun soft elastic running surface. Suitable for use under your own height adjustable standing desk, as a fitness machine, or as a stand-alone solution. Standing aid and handrail are optional.



Kybun

- Worldwide unique treadmill surface with Kybun covering with elastic properties for excellent cushioning and recovery.
- You walk and run as if on a soft forest floor.
- Trains leg, foot, back and torso muscles, including deep muscles.
- Protects the joints at the same time.
- Promotes balance, coordination, and fine motor skills.
- Also suitable for rehabilitation and physiotherapeutic applications. For this purpose, we strongly recommend the handrail.
- Perfected in more than two years of developmental work in close cooperation with Kybun, the Swiss market leader for orthopedic shoes and physiotherapy equipment.
- Internationally patented.

The treadmill

- The first almost silent treadmill in the world (less than 39 dB)
- Maintenance free with lifetime warranty
- Multiple award winning design
- Functions without electricity
- High quality and sustainable materials
- Loads up to 160 kg
- Can be used with shoes or while barefoot

The advantages

- For focused, creative, and efficient work.
- Understood intuitively in minutes by an age group.
- Suitable for home offices, businesses, libraries, coworking spaces, gyms, and rehabilitation facilities.
- The speed of walking is determined step by step by the user.
- The treadmill adapts without any time delay.
- Interval training and sprints are also possible. For this, we recommend the handrail that can be mounted at any time. -Available in four sizes.

Optional standing aid

- For a little rest between tasks.
- For leaning back.
- Built-in safety - The treadmill stops and locks in the opposite direction when you lean back.
- It never gets in the way even when you are walking or running quickly.
- Covered with elastic nylon for a comfortable resting position.
- Removable at any time.

Mobility

- Four wheels make the treadmill mobile.
- Easy to reposition.
- The wheels are lockable.
- Suitable for stone and parquet floors.
- The treadmill fits through most doors and in most elevators.

Production of the treadmill

- Handmade in Walkolution's own high-tech factory in southern Germany.
- Only sustainable materials are used.
- Side panels are milled from solid sustainable beechwood blocks.
- Running surface made of springy birchwood slats.
- Coating is scratch resistant and soft.
- Slats slide on industrial grade ball bearings.
- Rock solid steel frame inside for safe operation.
Free shipping

Walkolution offers you free shipping.
Measures & Weight

Dimensions
Length 145 cm
width 64 cm
Height 29 cm


Weight
95 kg (+ standing aid: 5.8 kg)

Permissible user weight
200 kg
Lifetime Guarantee

All Walkolution products come with a lifetime warranty.
Downloads (3D Files, Spec-Sheet, Assembly Manual)
View full details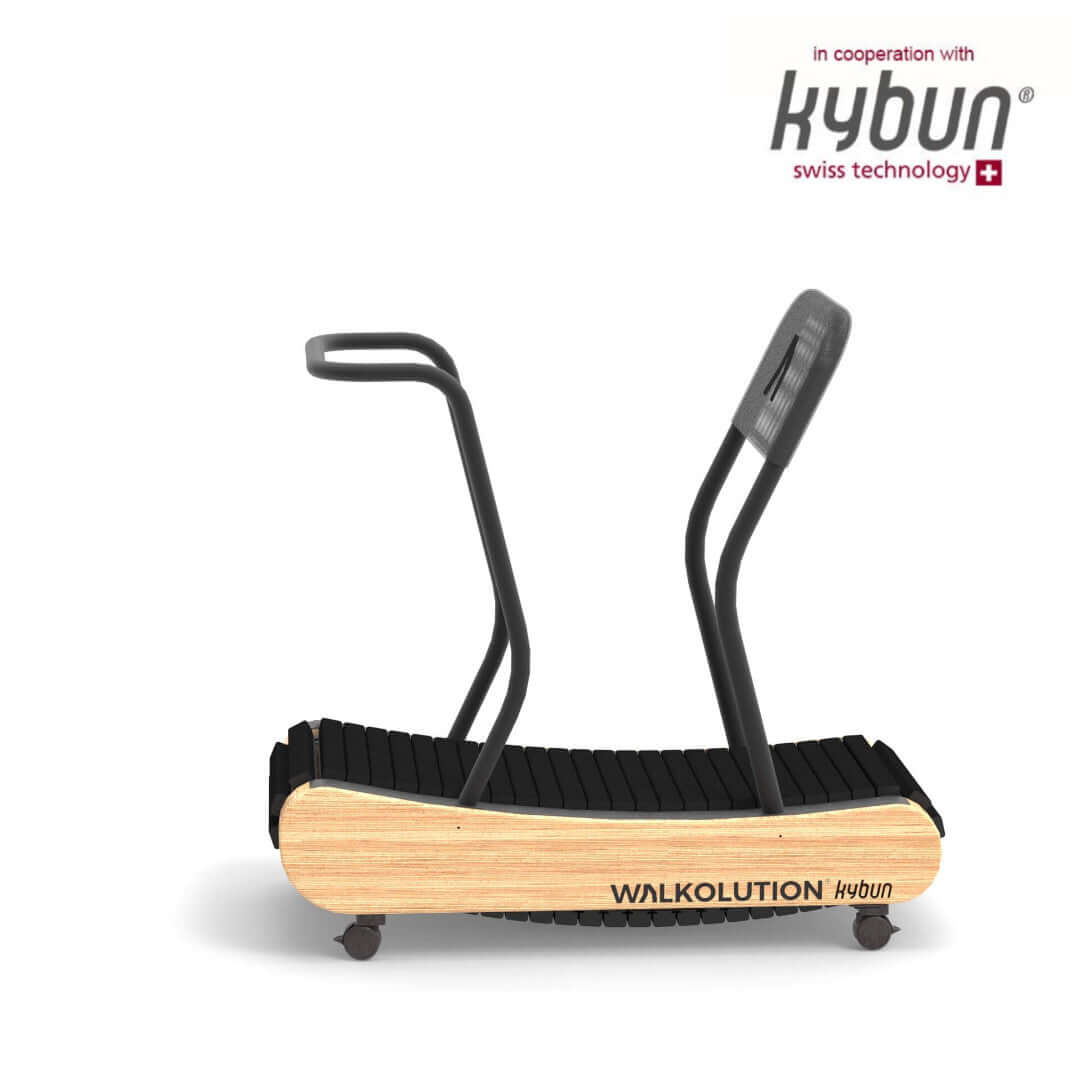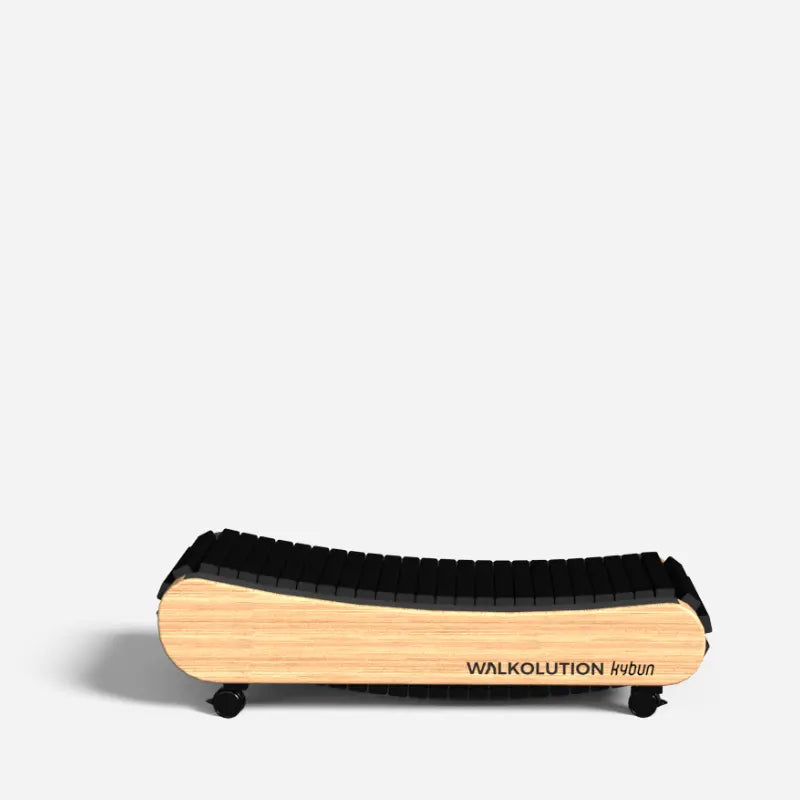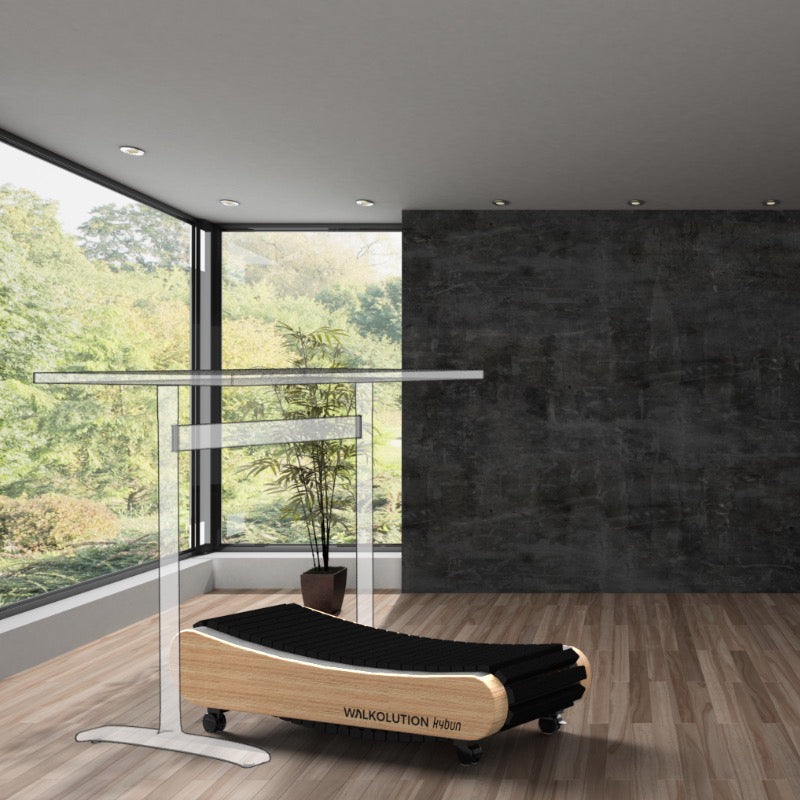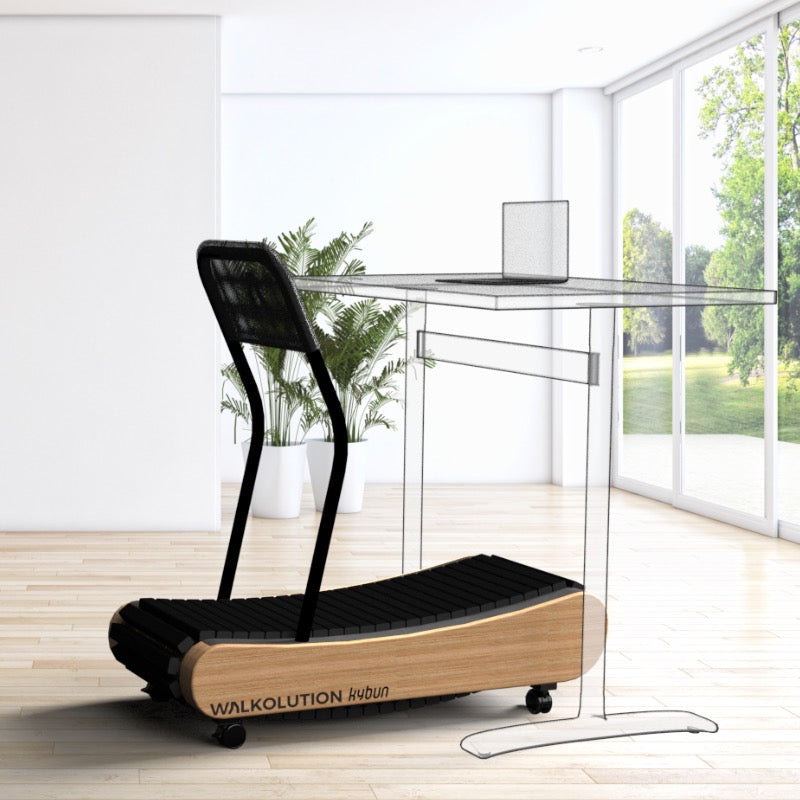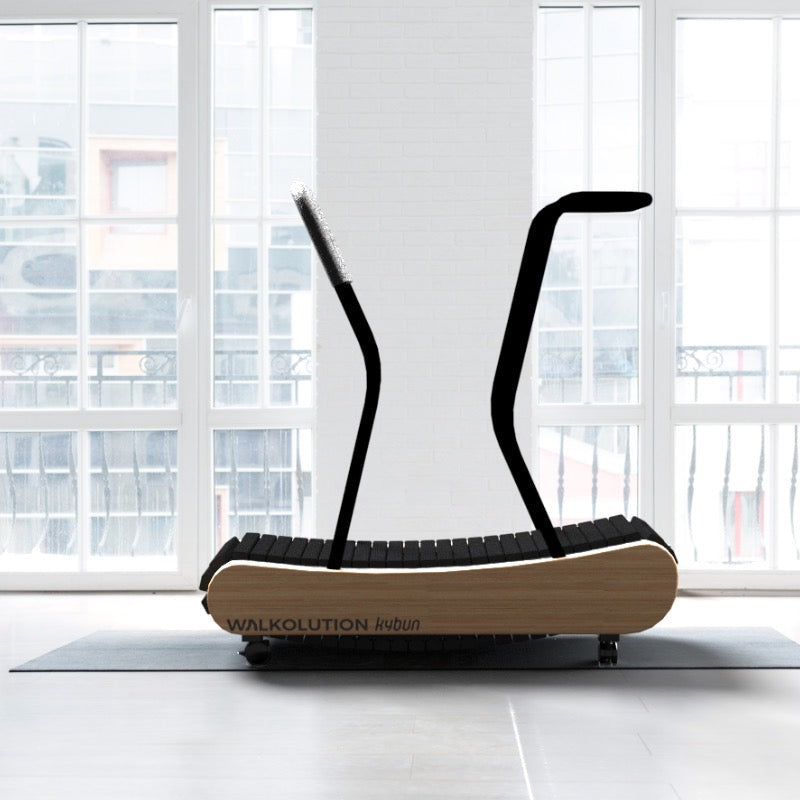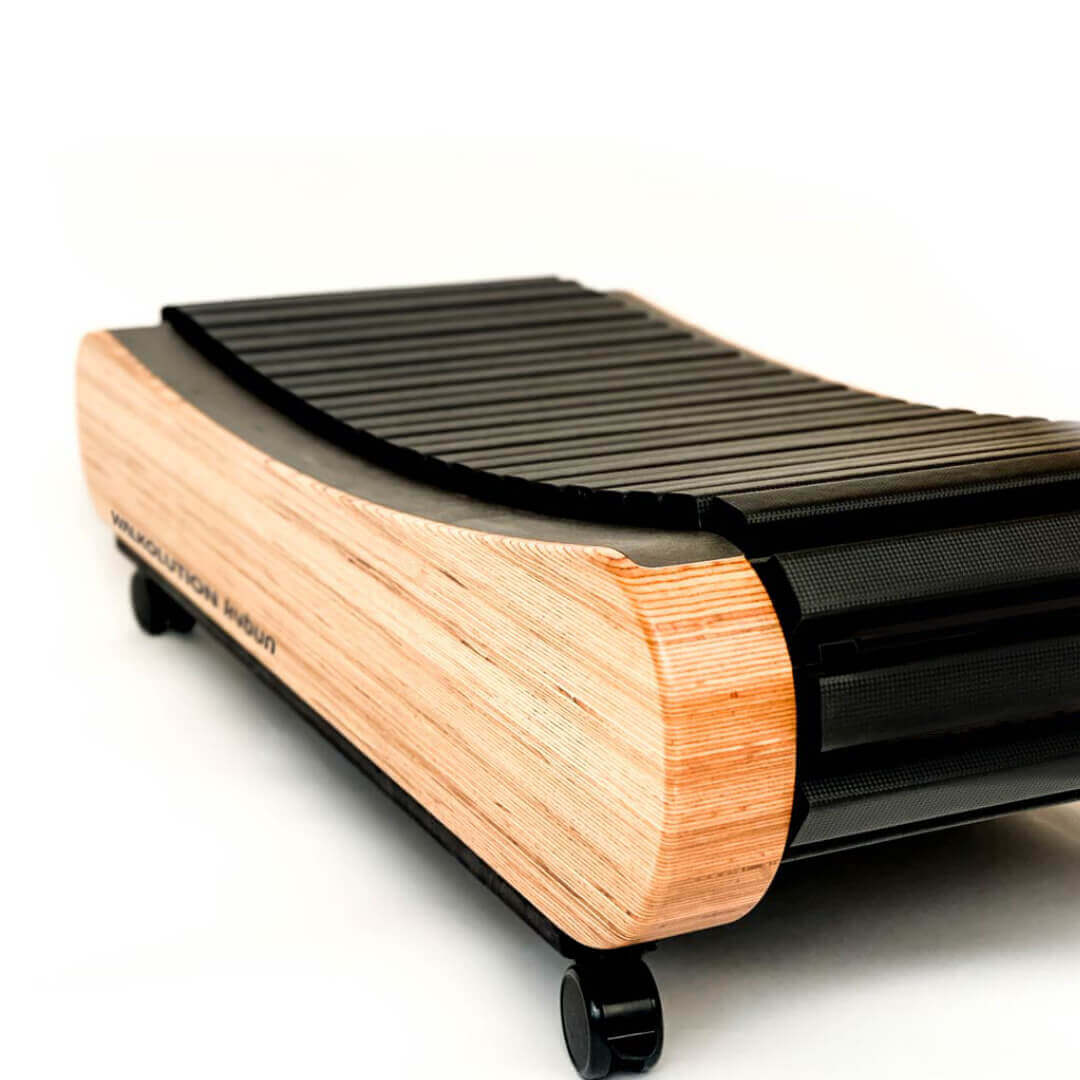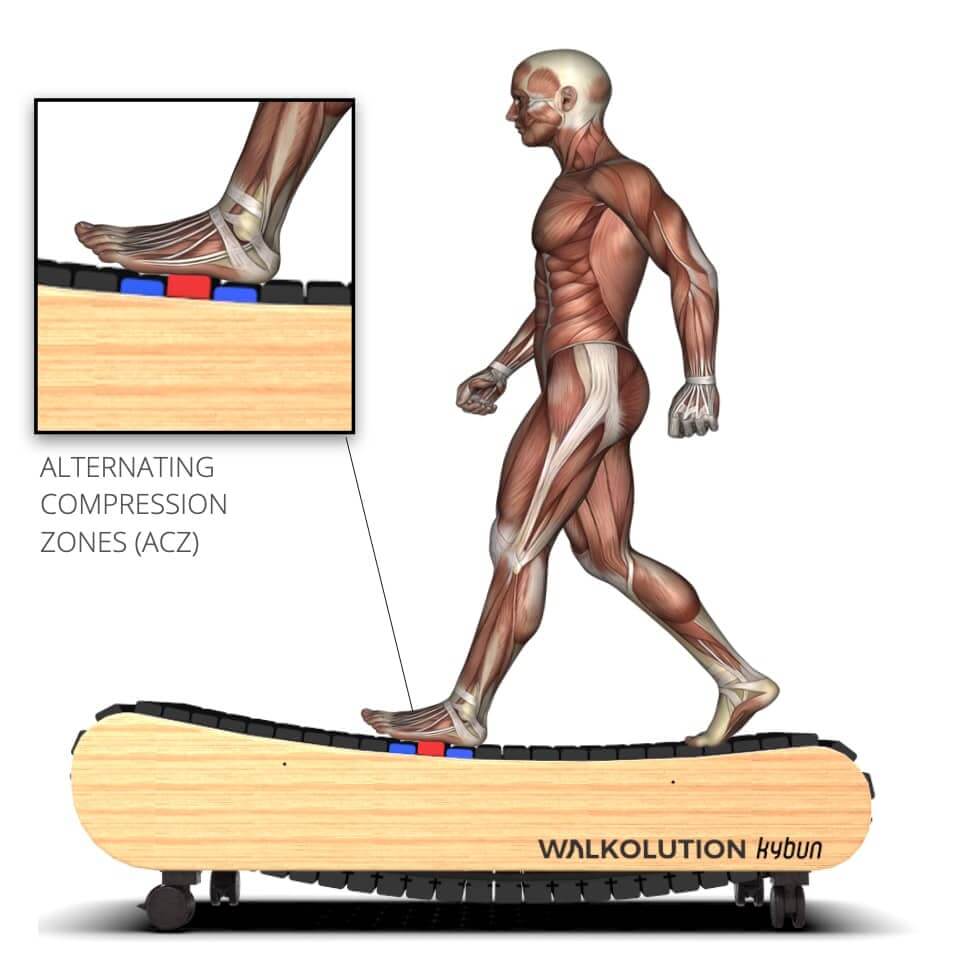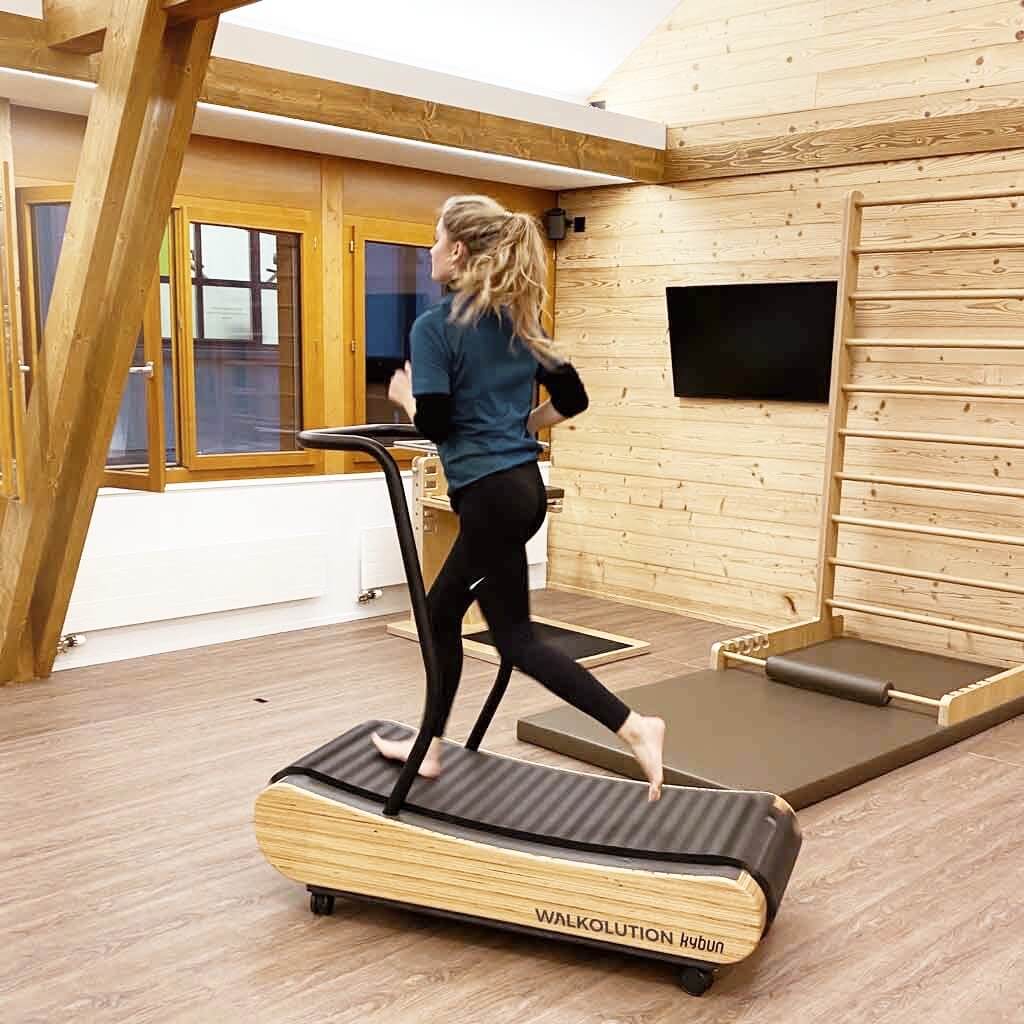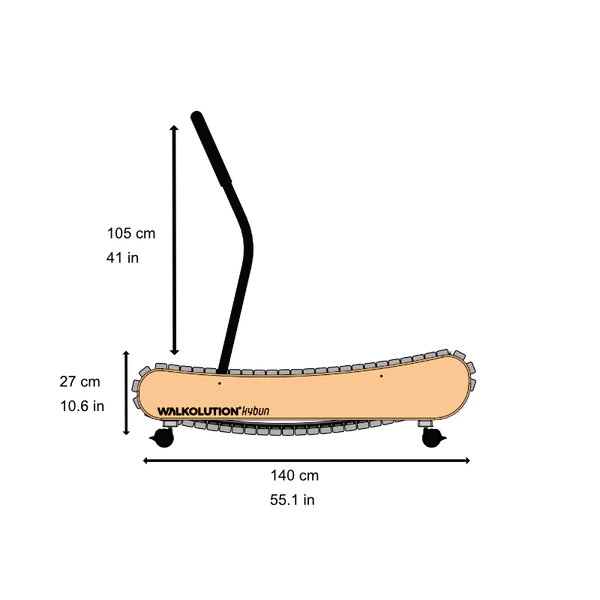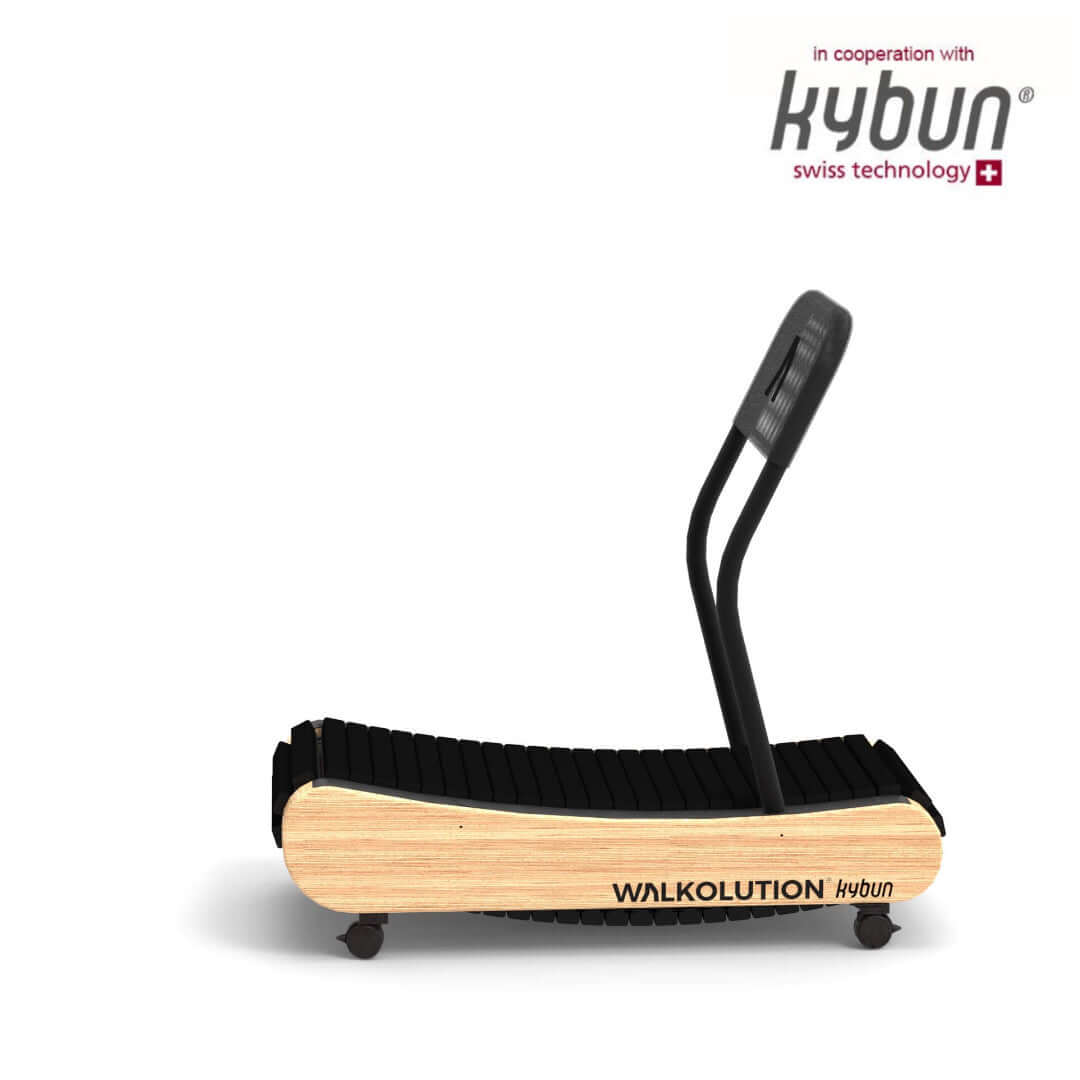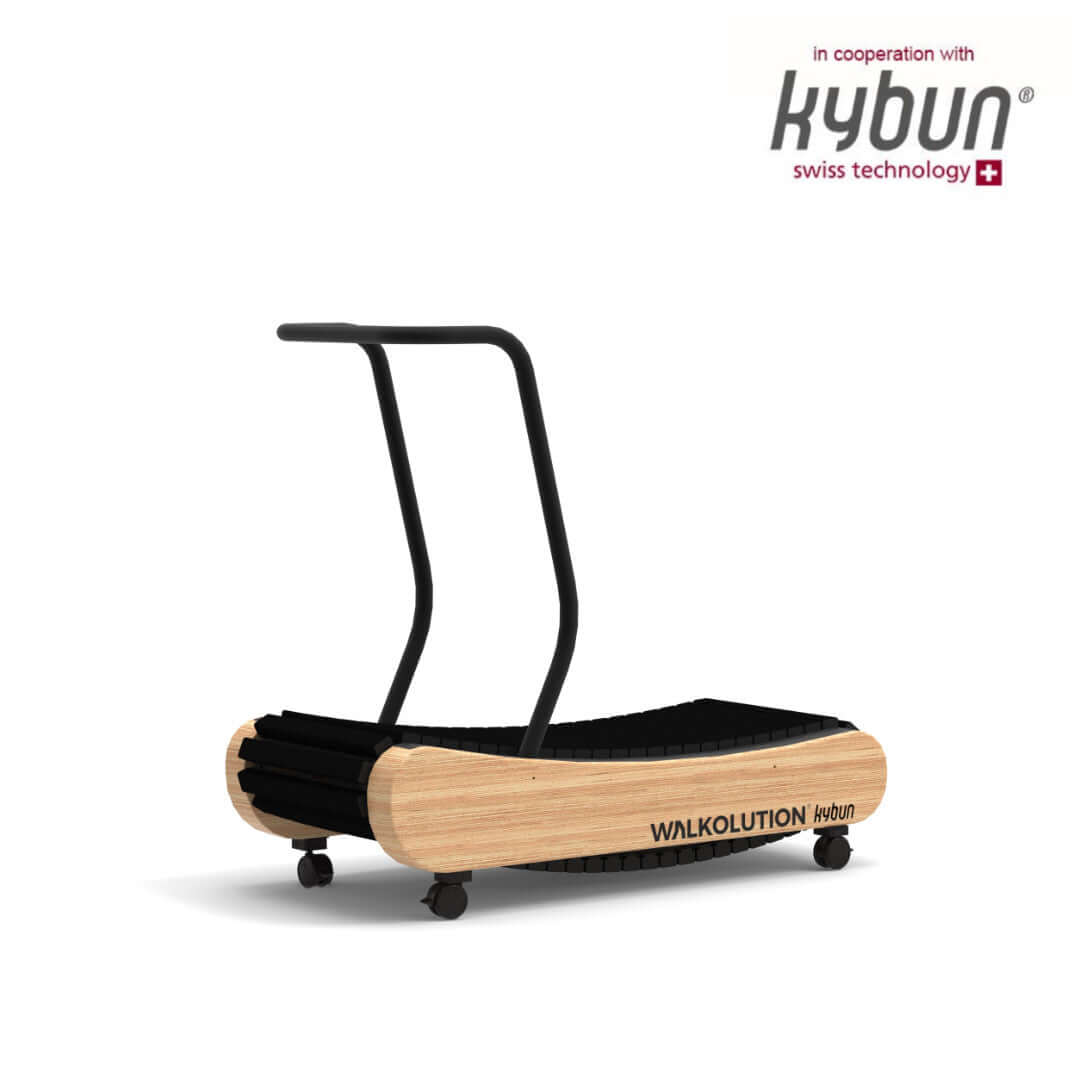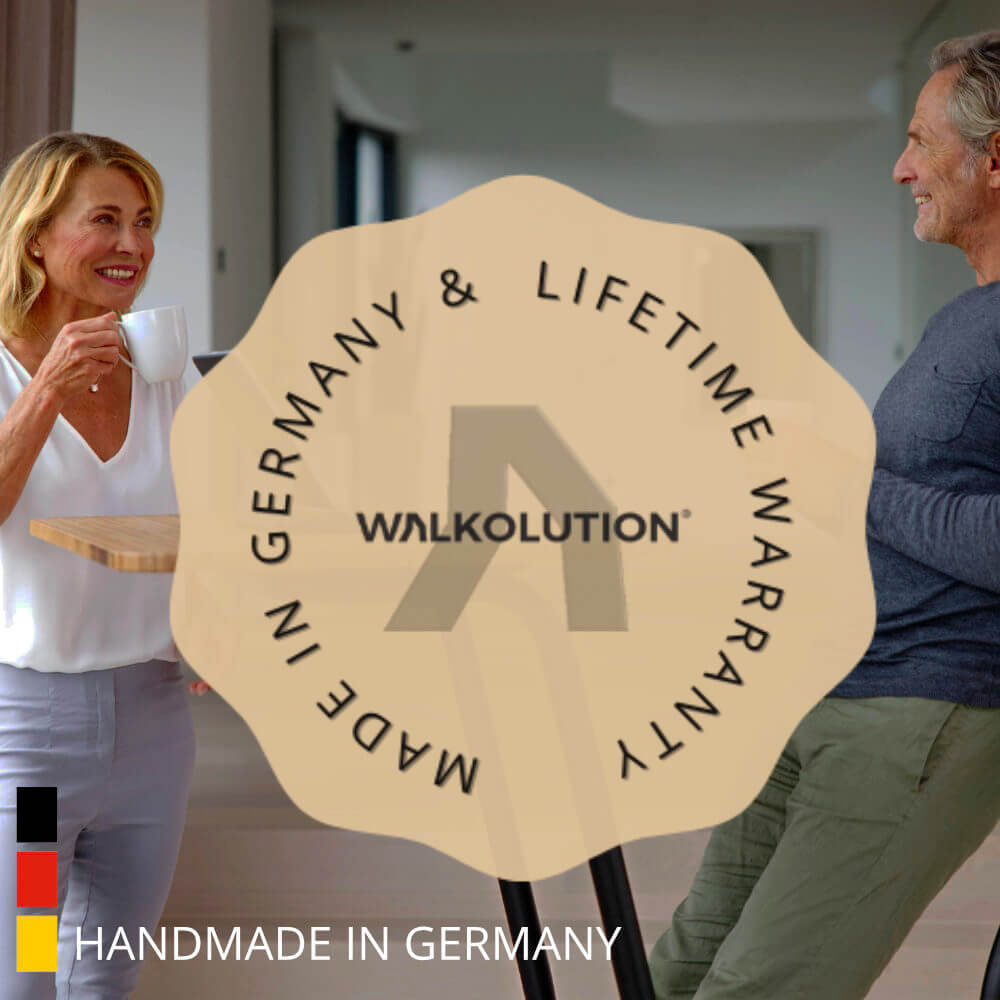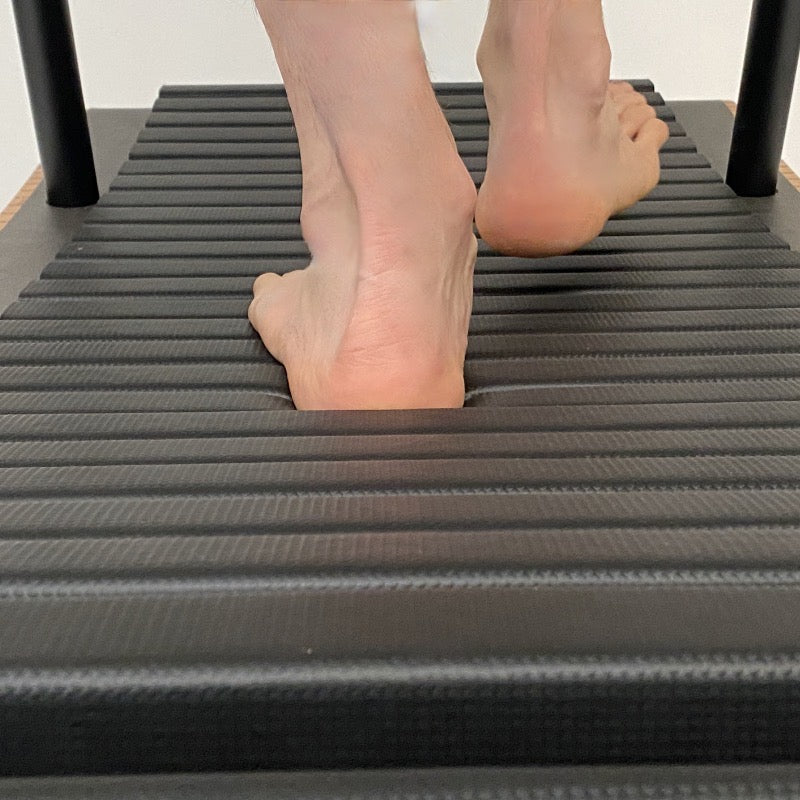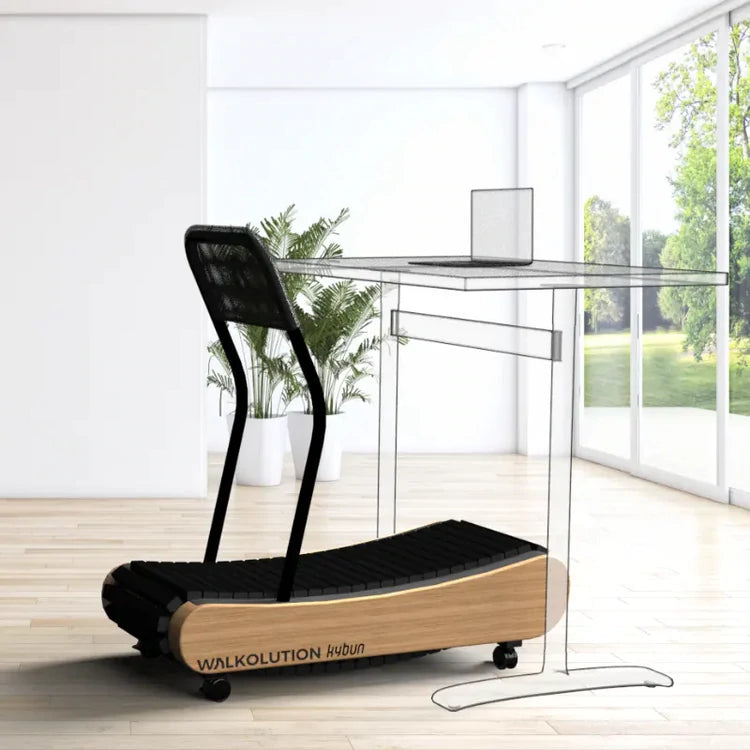 The Soft Kybun® Treadmill: Your Work Becomes A Stroll
The MT900 KYBUN NEW WORK is our luxury version of the popular MT300 series that you can combine with your own standing desk.

Enjoy an unprecedented comfortable walking experience with every step. On the soft elastic Kybun slats you walk like on a soft moss floor and train with every step a variety of muscles throughout the body, while the treadmill fades completely into the background thanks to its extreme running smoothness.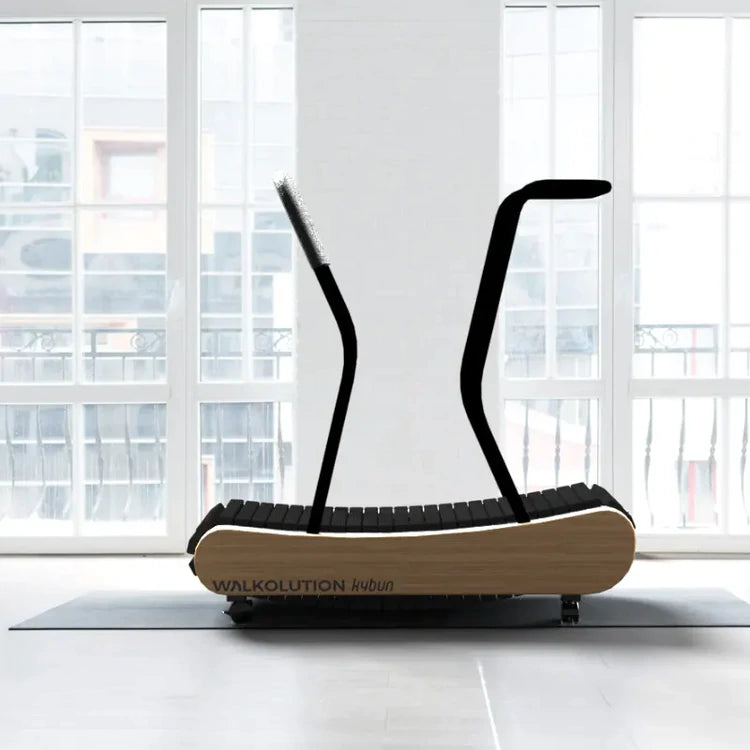 Material science for your wellbeing
The Walkolution treadmill works purely mechanically by means of slats that glide slowly on high-quality ball bearings. The advantages: The treadmill is whisper quiet and whether you stroll, walk or stand - you decide, intuitively and naturally, from step to step.

The differently structured Kybun walking surface not only feels incredibly good, but has also been proven to improve proprioceptive and sensorimotor skills as well as inter-/ and intramuscular coordination.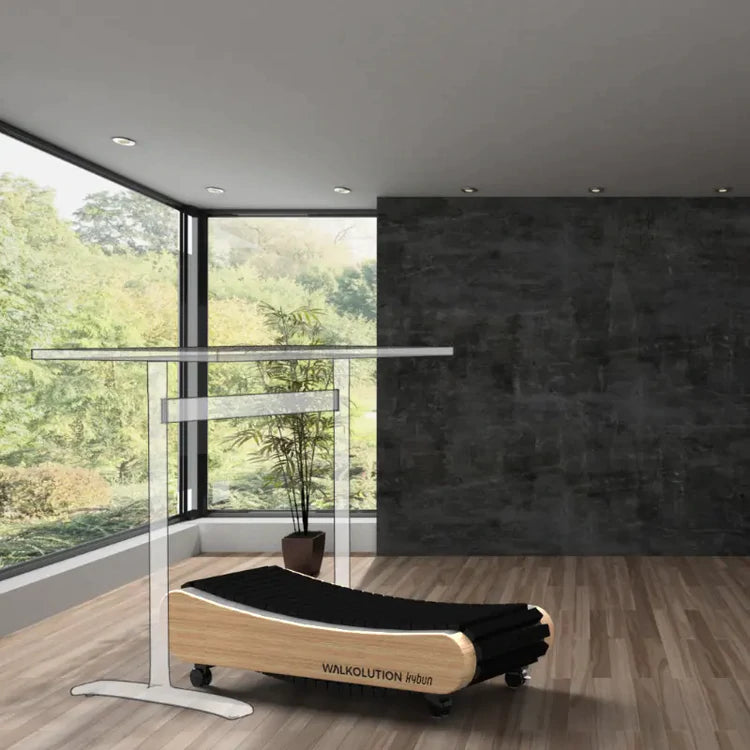 Advantages Of A Wooden Treadmill
The wood in the slats and in the side pieces of the treadmill body is highly sound absorbent. Together with the additional damping effect of the Kybun covering, it makes the MT900 incomparably quiet.

The slats and side pieces are made of wood from certified, sustainably managed forests in Germany. Our use of wood is for more than decoration. It contributes to walking comfort and is a marvelous acoustic aid.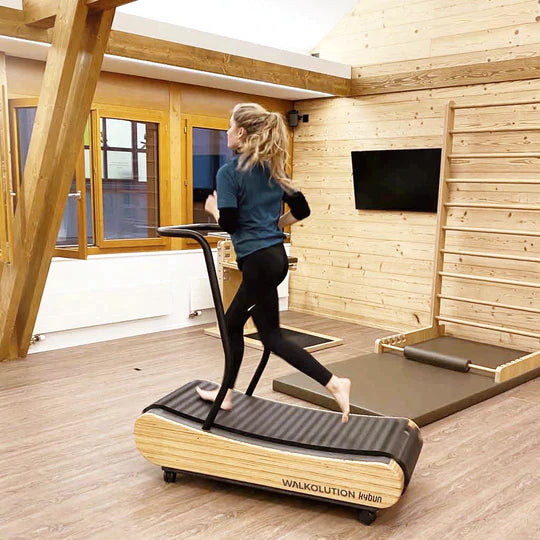 Feel As If You Are Running in Nature
The treadmill optimally adapts to your running style, continuously and without time delay. You can train barefoot, with socks, or with shoes. This soft surface provides a feeling of natural running that you have never experienced.

In addition, the special drive provides a much more effective workout for the muscles because greater effort is required than with a normal motorized treadmill. This leads to an additional calorie consumption of up to 30%.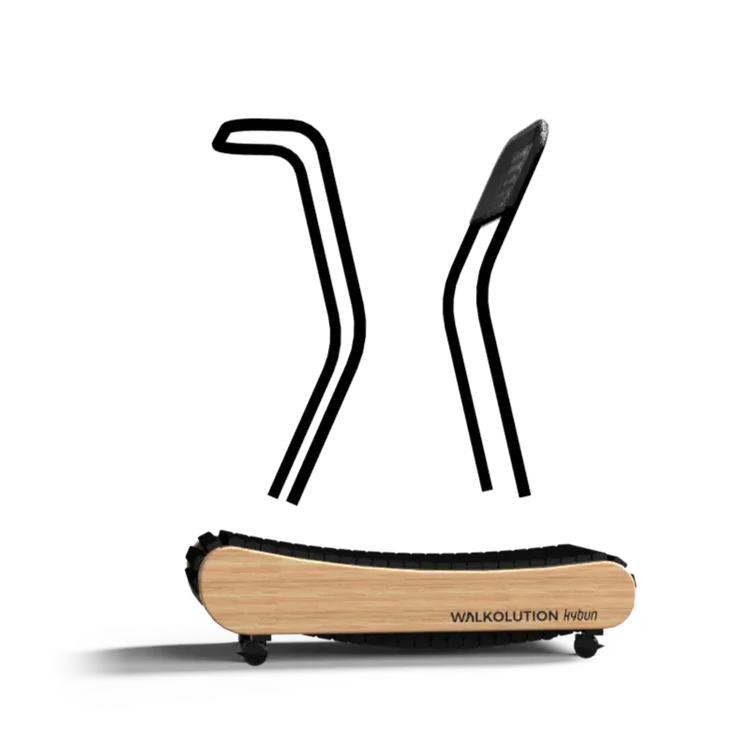 Modularity
You don't have to make a definite decision at the time of your purchase. All Walkolution products can be upgraded with a few simple steps and without tools. The treadmill has hidden attachment points for additional components, such as the standing aid or the front bar that also serves as a table attachment.
Walking Like On Soft Forest Soil
Every step is like a foot massage

The world's unique treadmill surface with elastic springy lamellae is built in close cooperation with Kybun (formerly MBT), the Swiss market leader for orthopedic shoes, and was brought to perfection during more than 2 years of development and research.

The impulse-active compression zones allow the feet to sink to different depths for optimal rebound. Kybun's patented method has been tested and certified by the IGR Institute for Health and Ergonomics, among others.

Alternating Compression Zones (ACZ)

Our anatomy is perfectly designed for walking on uneven surfaces. With a degree of hardness that varies from slat to slat, the Alternating Compression Zones (ACZ) give you the feeling of walking or running over a soft forest floor with a constantly changing surface.


This feature, unique in the world market, stimulates and trains the deep muscles and proprioception and prevents injuries caused by one-sided continuous loads.



Optimal training effect due to a natural surface

The rebound effect and the different degree of hardness cause alternating muscle tension and relaxation. This optimizes the training effect for leg, foot, back, and torso muscles while improving balance and coordination.

Anyone who has an active lifestyle or who suffers from degenerative joint diseases needs to focus on protecting their joints.


Used By Leading Companies
Well-known companies around the world use our treadmills because they care about the health and productivity of their employees and because our high quality meets the demands of these customers.


Learn more about our enterprise solutions 
Manual vs. electric treadmill desks

Do you want to buy a treadmill desk but don't know which type to choose? In this video, we compare the two types of available treadmill desks: The manual Walkolution and conventional electric treadmill desks.
Which Walkolution treadmill suits you?

The Walkolution Manual Treadmill is available in different versions. Find the version that suits you best. Choose between different table options and decide whether you want a wooden walking surface or an extra joint friendly Kybun foam surface.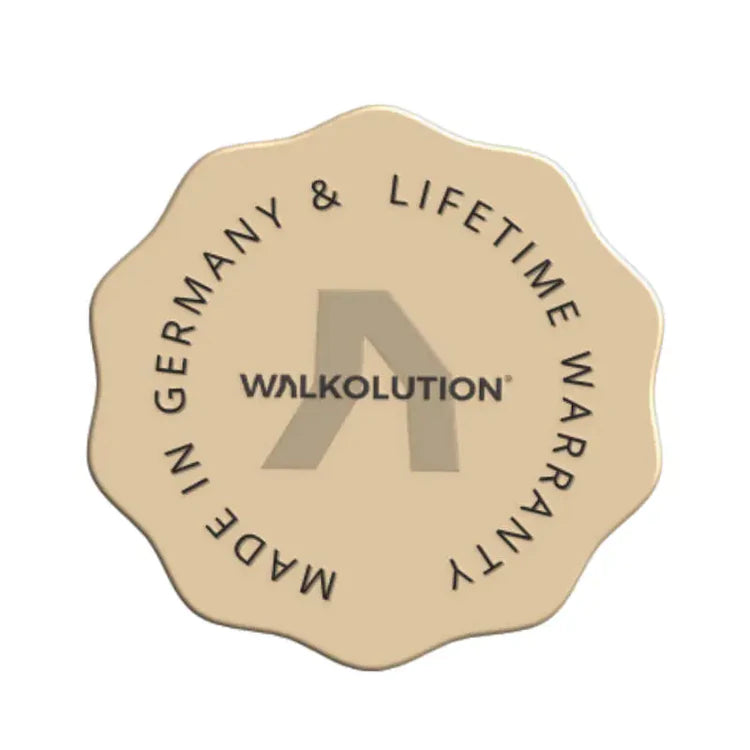 Worry-free Lifetime Guarantee
It doesn't get more robust than this. The Walkolution treadmill is maintenance-free and designed for continuous daily use. You should enjoy it for a lifetime; that's why we give you a lifetime warranty.

Discover the Walkolution world
Regular price
From €10.072,94 EUR
Regular price
Sale price
From €10.072,94 EUR
Unit price
per